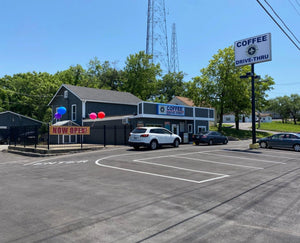 2528 Gravois Road, High Ridge, MO
★★★★★

Easy and fast ordering through the website for the best coffee ever. I often rotate through their different coffee options and they're all amazing. Coffee is always freshly roasted with the "roasted on" date stamped to the bag. I can't recommend this company highly enough! 5 stars with every perfect cup!

Stephanie & Taylor
★★★★★

I really like their fresh roasted beans. And I love the fact that they are local.

Anonymous Reviewer
★★★★★

Amazing! Very quick shipping, and a nice note included with the gift.

Laura S.
★★★★★

Best cup of coffee I've had in a long time!! Well done!!

Julie G.
★★★★★

The whole process of ordering online and delivery was so easy! The coffee is delicious & I really enjoy knowing the roaster and where my coffee is from! Thank you!!

Anonymous Reviewer
★★★★★

Been a big fan of their coffee for a couple years now. I've bought at the Lake St. Louis Farmers Market a couple times and also ordered online. Quick shipping, the coffee is always roasted perfectly and is always fresh! I've gotten coffee from several other local sources but they really just don't hold a candle to Twin Pikes.

The Rwanda roast is my favorite, it's a dark, full-bodied, and smooth coffee, not bitter at all like most every other dark coffee tends to be.

Andy S.
★★★★★

Absolutely the freshest and tastiest coffee! Always roasted to order! Professional and personable service since day one. Always a great variety of single origin coffees from around the world. They also make the most delectable nitro cold brew! Personally hand crafted syrups and flavors as well as proprietary tea blends. No other coffee roaster can top Twin Pike!

Shane
Local coffee roaster based in Louisiana, MO
Twin Pikes Roastery is a family-owned business that supplies small-batch, freshly roasted coffee and serves original recipes at market venues. 
We specialize in the art of hand-crafted.
"I have found that once people try my coffee and find it is just as good as the competition for less, they respect me for it."
-Ryan Cornell